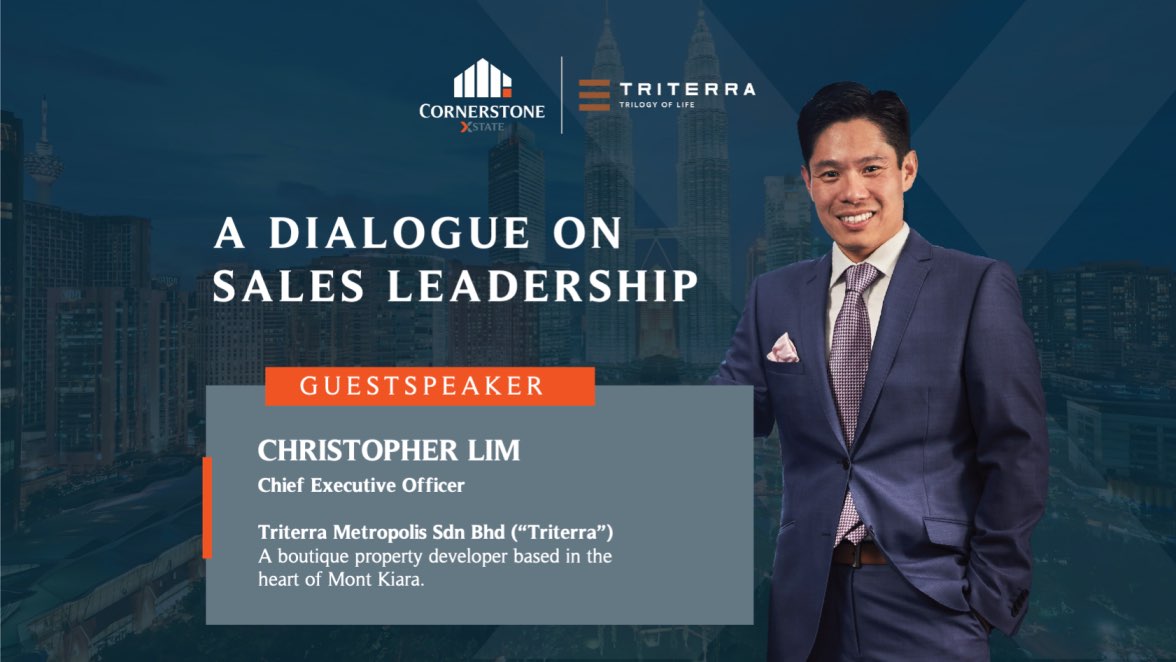 CSX Breakthrough Meeting @March 2021
22-03-2021
A sales leadership dialogue with Christopher Lim!
During this month's breakthrough meeting, Cornerstone Xstate is proud to welcome one of Malaysia's prominent figures and charismatic personalities Christopher Lim! He is principal founder and also chief executive officer of boutique developer Triterra Metropolis Sdn Bhd. In his role as CEO, Triterra has grown by leaps and bounds in catering to the sub-sales or secondary market in Mont' Kiara. Driven by the philosophy of community living and business lifestyle, his aspiration and commitment of providing quality housing, hospitality service and investment opportunities to both prospective homeowners and property investors is exemplary to say the least!
What makes a good sales person? Accountability immediately comes to mind by taking into account the needs of buyers, investors, family, company and also country. Leadership essentially starts with one own self. Apart from leading a team or company, a leader must have a clear-cut vision to inspire, empower and motivate. "A leader is one who knows the way, goes the way and shows the way." In the aspect of leadership investment, a good leader constantly visualises with research and analytics, inspires people through the wisdom of his or her vision, maintains a strong conviction and commitment, is always proactive and takes affirmative action, and brings about constructive change with love, passion, integrity, confidence and assertiveness.
Successful people generally do ordinary things with extraordinary consistency, commitment and focus. Differentiation holds the key. The devil is in the details. Always compare and contrast in creating a competitive advantage. In addition to competition, collaboration is quintessential in building your career, network and livelihood. The mark of a great leader is often summed up as having the will of an ox as well as humility of a sage or prophet – the wisdom and will-power combined shall overcome all obstacles, challenges and adversities. Ultimately, leadership is a choice. Have faith and be confident, but not over-confident. Just be yourself and always believe in yourself!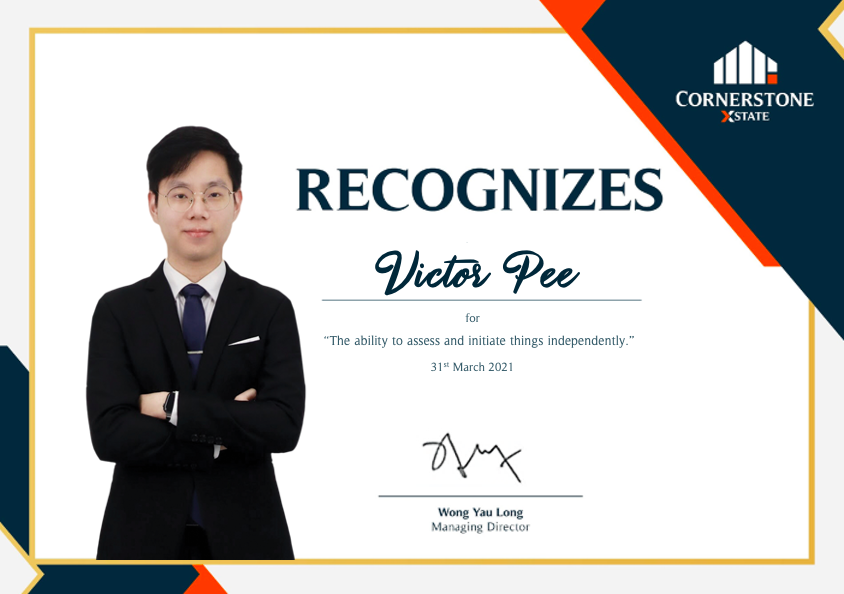 Monthly Character Recognition
In the Monthly Character Recognition, CSX pays special tribute to Victor Pee, a maverick negotiator who has proven his INITIATIVE in rising up to the occasion as well as embracing adversities in living his dream. His innate ability to take charge, execute actions independently and getting things done accordingly with little guidance or assistance is truly apparent through his designated project with Alira Metropark. Victor's persistency and consistency is vital to his team's success.
Cornerstone Xstate shall continue in guiding agents, transforming people and enriching lives. Once again, we at CSX would like to thank Christopher Lim for an awesome, productive and inspiring sharing session. Always remember, team work makes all the dreams work. Just remain in the game, and never ever give up. Stay motivated and keep hustling! 😉