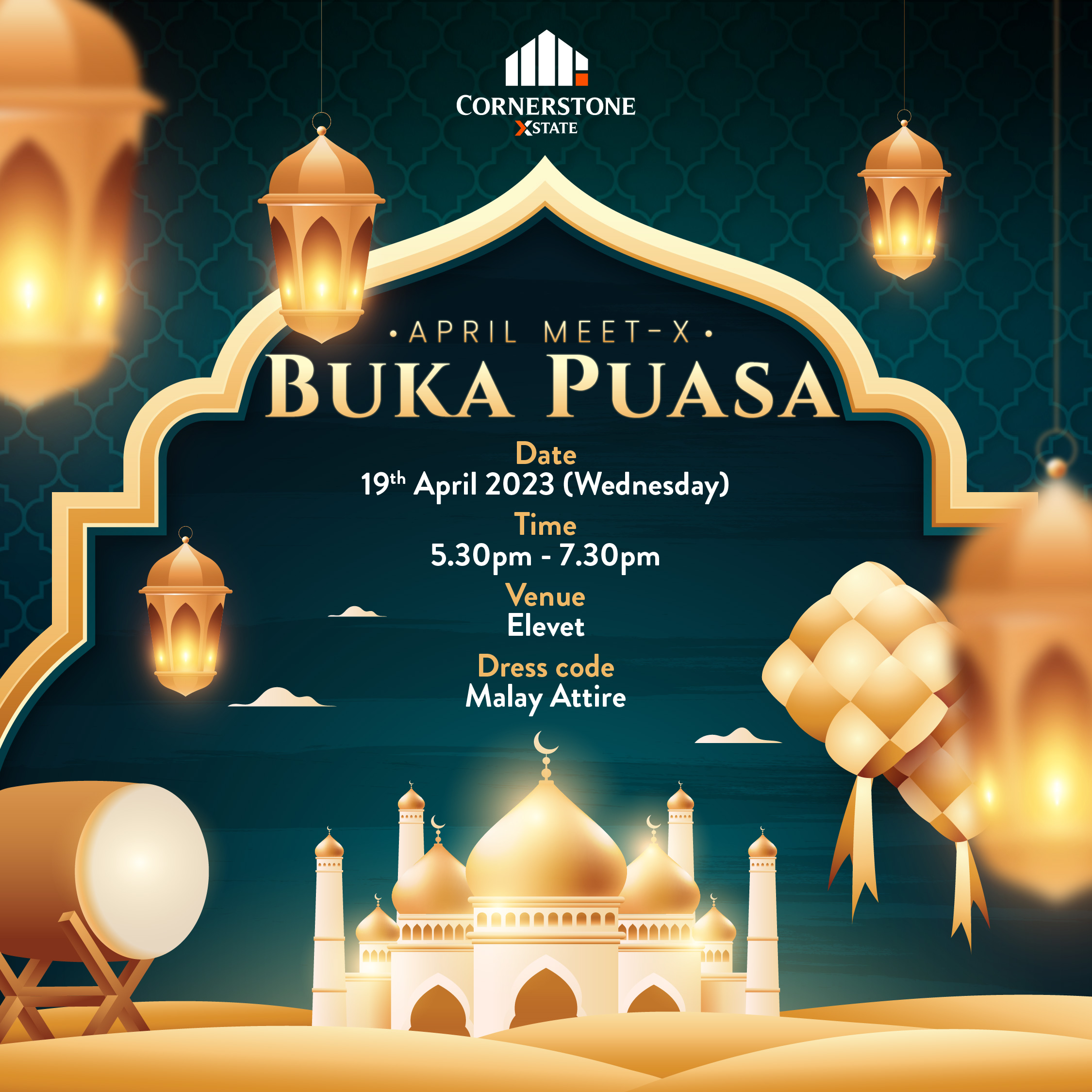 CSX celebrates Raya Aidilfitri @ Meet-X 'Buka Puasa' featuring Zoei Lim and Wong Yau Long
19-04-2023
Welcome back to CSX MEET-X @ 'Buka Puasa' in April 2023!
During the holy month of Ramadan, we feast with our Muslim brothers and sisters of Cornerstone Xstate. It is that time of the month again when we celebrate our top achievers, feature inspirational speakers and highlights of company news & reels. This month, we bring you two special speakers – Cornerstone Xstate's very own Managing Director Mr. Wong Yau Long as well as Zoei Lim, CSX's new Head of Brand & Marketing. We also have an intro briefing by S.K. Tan on the bare essentials of Cornerstone University. The highlight of the evening is of course the much-awaited Buka Puasa "iftar" or break fast event which showcased sumptuous ala buffet-style Malaysian dinner comprising favourite Malay dishes & delicacies. Bon appetit, folks!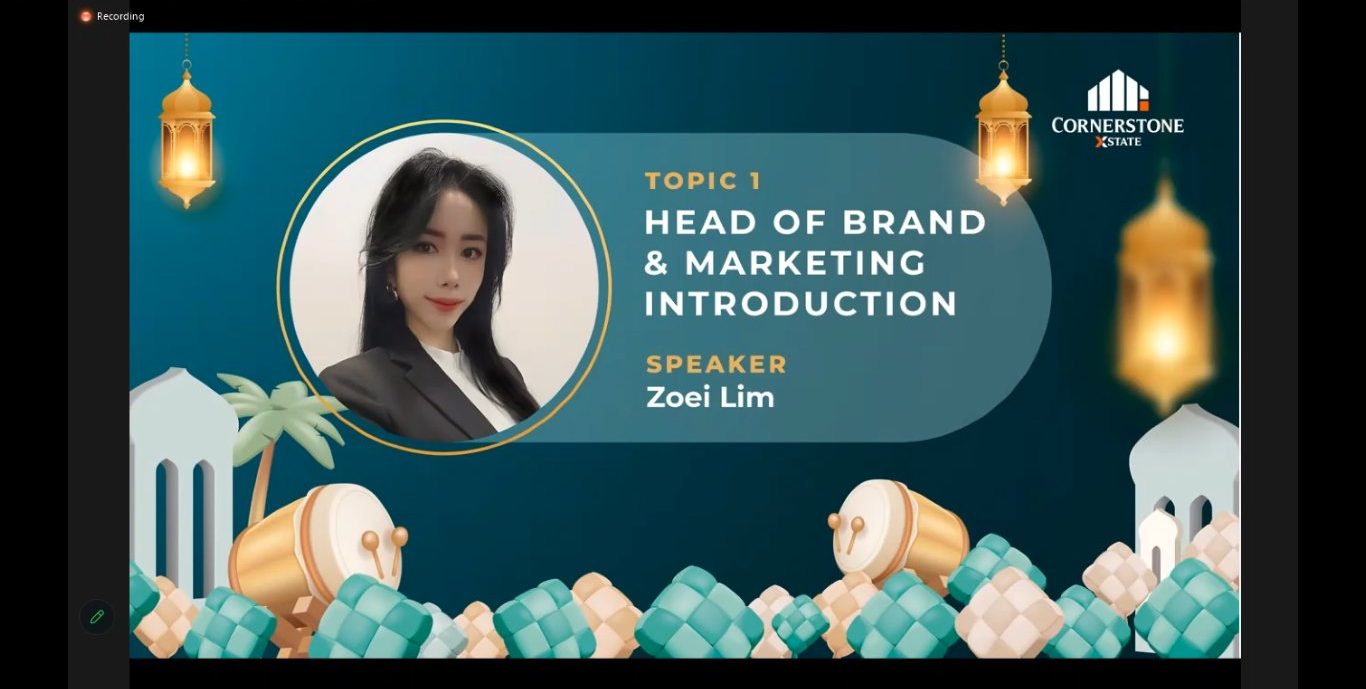 Head of Brand & Marketing Introduction - Zoei Lim
Cornerstone Xstate is truly proud to welcome its new Head of Brand & Marketing, Zoei Lim to the company and our big family! Zoei is an award-winning sociopreneur with over twelve years of expertise and experience in industry branding, marketing and communication. She has embarked on web development, app development, e-wallet app, Google Ads, BEST Inc. (E-wallet), Best Express Malaysia (FB), among others. She is a prominent recruitment manager in charge of hiring new agents & negotiators. Her project portfolio in digital marketing includes advertising campaigns for Best Express in the Malaysian as well as Chinese markets. She has created advertorial campaigns and content planning via social media platforms such as Facebook, TikTok and Instagram. Interestingly, one of her FB Page Build projects is for Cornerstone Xstate's Liv'In website. There are also ad campaigns for D'Sini and GEM Residences respectively. We are confident that she is poised to take Cornerstone to ever greater heights and beyond!
During this meeting, we witnessed more closings and deal-makers from aspiring agents and novice negotiators. We also paid tribute to our mega producers and top teams in recognition of their diligent efforts, unbridled passion, unwavering perseverance and persistent hard-work. Teamwork makes all the dreams work! CSX continues to invest in new tools and creative methodologies, digital marketing strategies and innovative smart technologies. THANK YOU once again to Zoei Lim and Wong Yau Long for their superb sharing as well as to Lucas Chiew for being a warm & wonderful host throughout this session!
At Cornerstone, we are fully confident of our goals and objectives guided by a clear mission, cohesive focus and holistic vision for the future. Together, as one united family, we shall brave the storm, conquer all adversities and challenges, and continue to remain in the game. As always STAY STRONG, REMAIN MOTIVATED, KEEP MOVING, CONTINUE HUSTLING, BE INSPIRED and LIVE HAPPY! To all Malaysian Muslims, we like to wish you a blessed and blissful Hari Raya Aidilfitri 2023 from all of us at Cornerstone Xstate…Maaf Zahir dan Batin!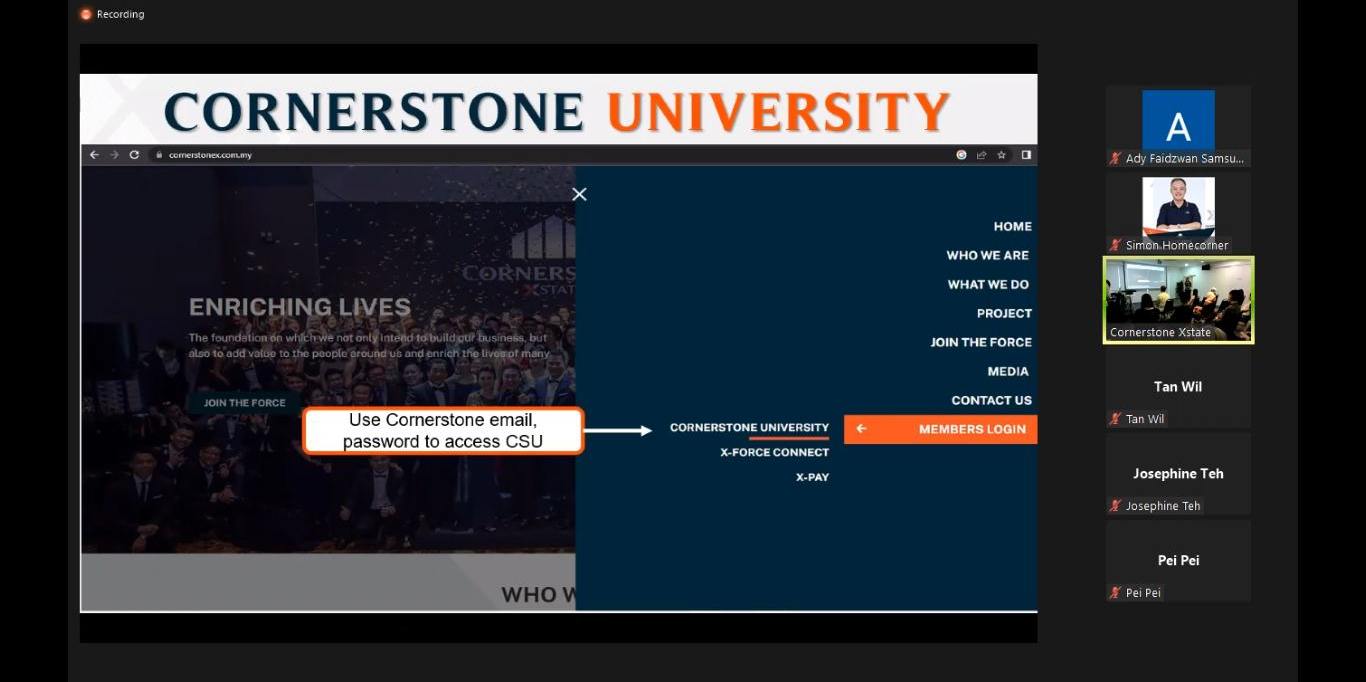 Refresher on Cornerstone University (CSU) by SK Tan
We also have a brief introduction on Cornerstone University (CSU) by S.K. Tan. It is basically a one-stop resource hub/portal cum online educational database/library with detailed or comprehensive info about company projects, property listings, professional courses, skills training, marketing campaigns and technology centre comprising key programmes for the sole benefit of CSX agents and negotiators. They include Cornerstone Xccelerator Program, Revenue Share Model, Project Xccellence Workshop, Advanced Skill Training, 14-Day Agent Boost Challenge, Real Estate Jargons, Company Resources, Marketing Resources, CSX Technology, X-Force Connect, Leaders Board, etc.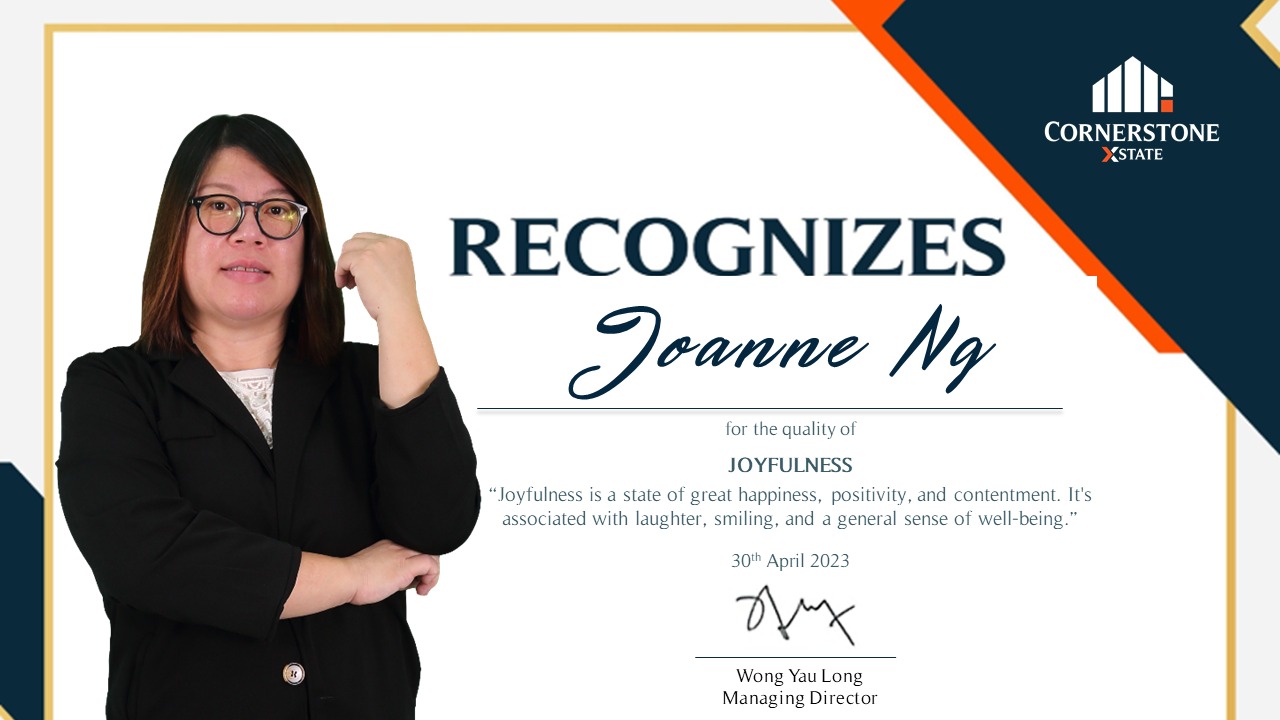 Monthly Character Recognition - Joyfulness
In this edition of Monthly Character Recognition, CSX is very happy and pleased to recognize a real estate negotiator who embodies or personifies the very meaning or definition of JOYFULNESS exhibited through holistic happiness, phenomenal positivity and wholesome well-being. She is truly one jovial character and bubbly personality who is constantly cheerful and inspires those around her through her insatiable humour and contagious laughter. Joanne Ng is one of the few people at Cornerstone who possesses the innate ability to bring real joy to others, brighten up anyone's day and put a smile on your face. Any event, activity or programme without her presence would surely be less fun indeed. She is generally revered and respected by team mates and fellow colleagues for her utter kindness, genuine honesty and bona-fide trustworthiness. Joanne firmly believes that nothing is impossible in this industry so long as one maintains a can-do or never-give-up attitude, and always believing in oneself!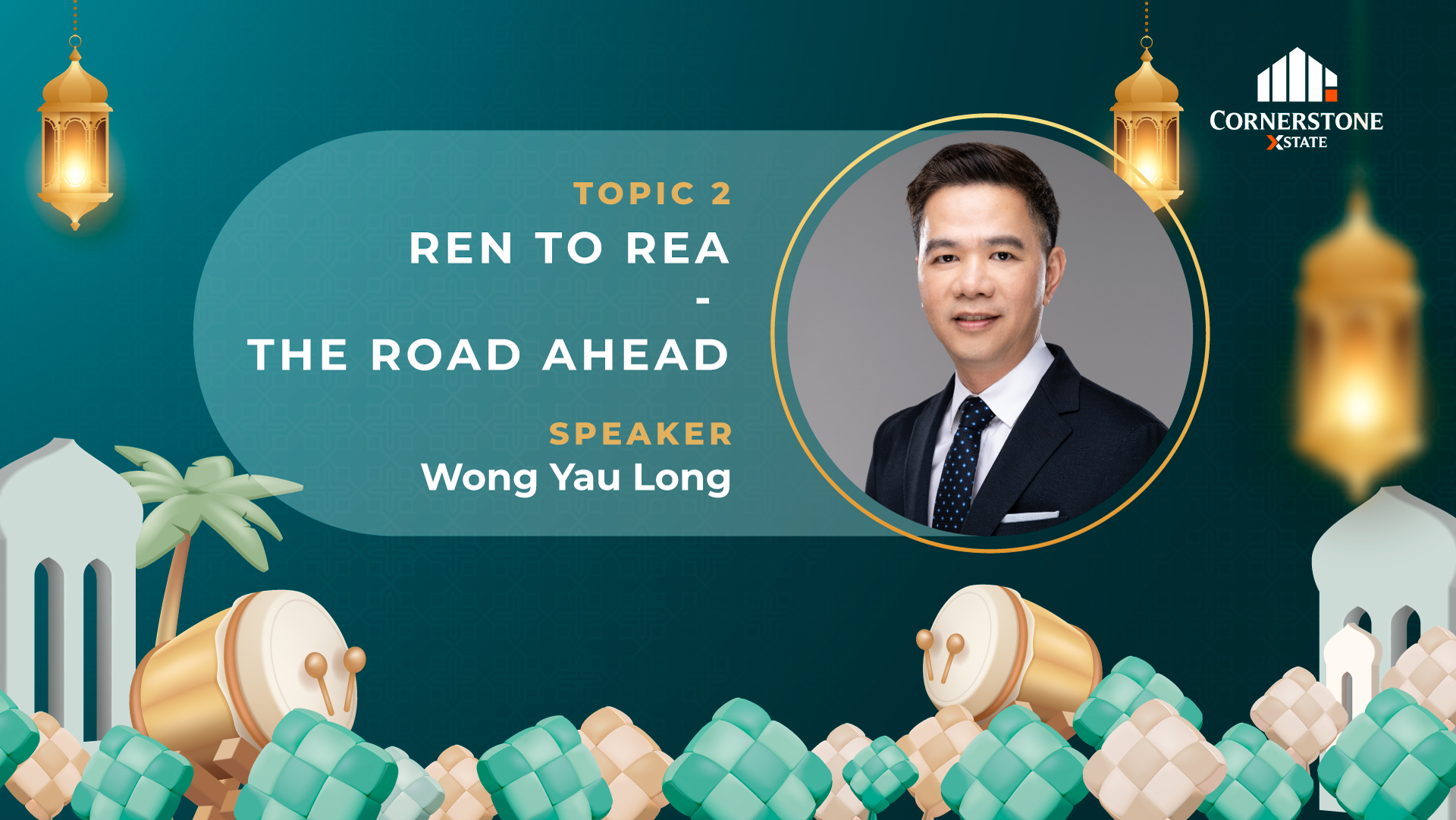 REN to REA - The Road Ahead - Part 1
Our guest speaker for today also featured the one-and-only beloved and favourite Managing Director, Wong Yau Long who shared his real estate journey in "REN to REA – The Road Ahead." Starting out as a real estate negotiator, Yau Long amassed multiple listings thinking they represent abundant prospects and success opportunities. But without a clear laser-focus and relevant business strategy, one is surely bound to fail. To truly succeed, we need to specialize as well as diversify. To grow one's business, sometimes to do less is more. But we should never limit ourselves or our capabilities. We also need to have a big-game mindset, set the right goals, and create key tasks to attain the goals. Envisioning big goals and investing in marketing & leads generation is the 1st step toward thinking like an entrepreneur.
The fundamental pathway to meeting your goals and building strong rapport with your prospects begins with focusing on key task, A1 task and effective activity. Develop a robust relationship with your clients is key to increase your sales. Prioritize your tasks through a series of appointments and presentations. Nurture your leads to obtain more referrals and greater business opportunities. As your business grows and matures, your focus shifts from being a farmer to becoming an owner/proprietor. Learn to maximize money invested versus time spent. A balancing act of engaging customers via productive time management and optimal capital expenditure. The unique selling point of CSX lies in its productivity within 3 core X-factors, namely Marketing (Max), Technology (X-Force) & Academy (CSX University). Through the recruitment of new talents and harnessing the potential of sales personnel, generating quality leads becomes second nature.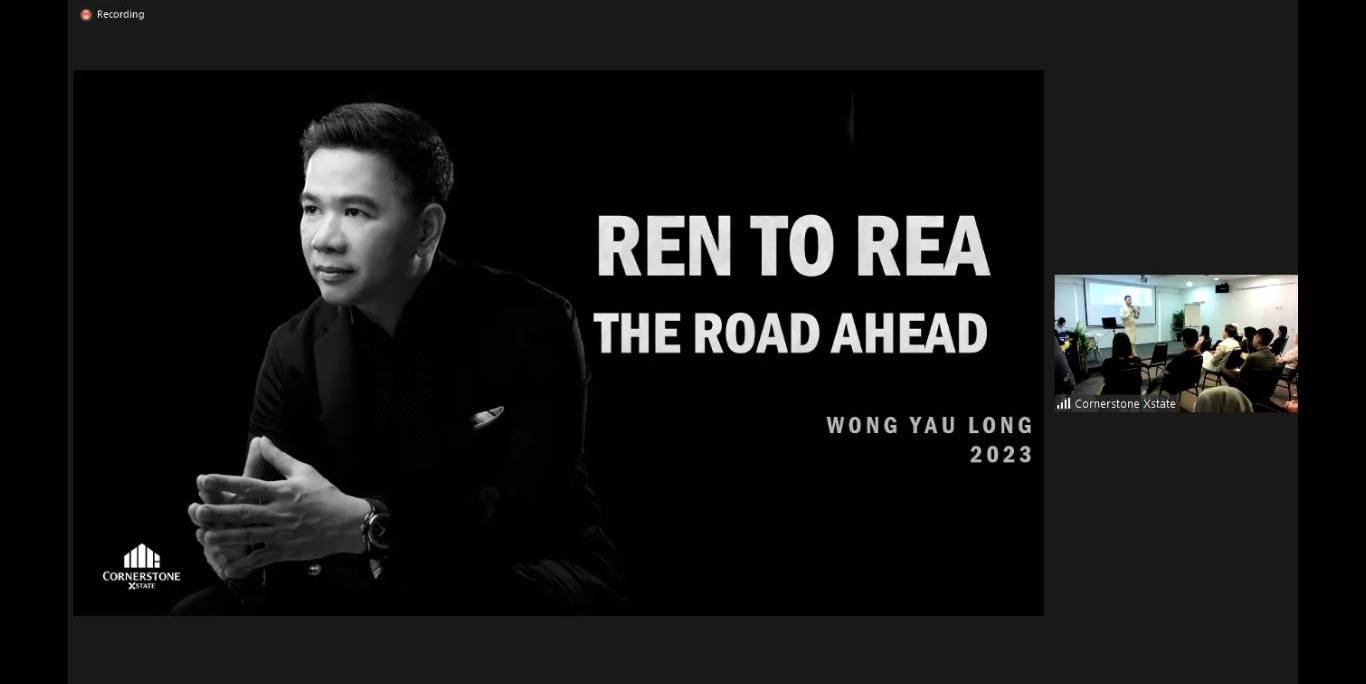 REN to REA - The Road Ahead - Part 2
As you strive for corporate ownership, raising funds/capital is critical towards attracting great talents. With the right workforce, you ca0n grow your company to support your staff, resources, revenue and expansion. As Yau Long used to say, "Think Big, Aim High!" Having a grand vision and setting lofty goals provides the necessary drive, impetus or motivation for success not just for yourself as a corporate owner but also for your teams and their respective leaders. Thus, the business career-cycle from farmer (REN) to agency owner (REA) to corporate owner (entrepreneur) is finally complete. Last words of wisdom: Never settle for anything less than par excellence, period!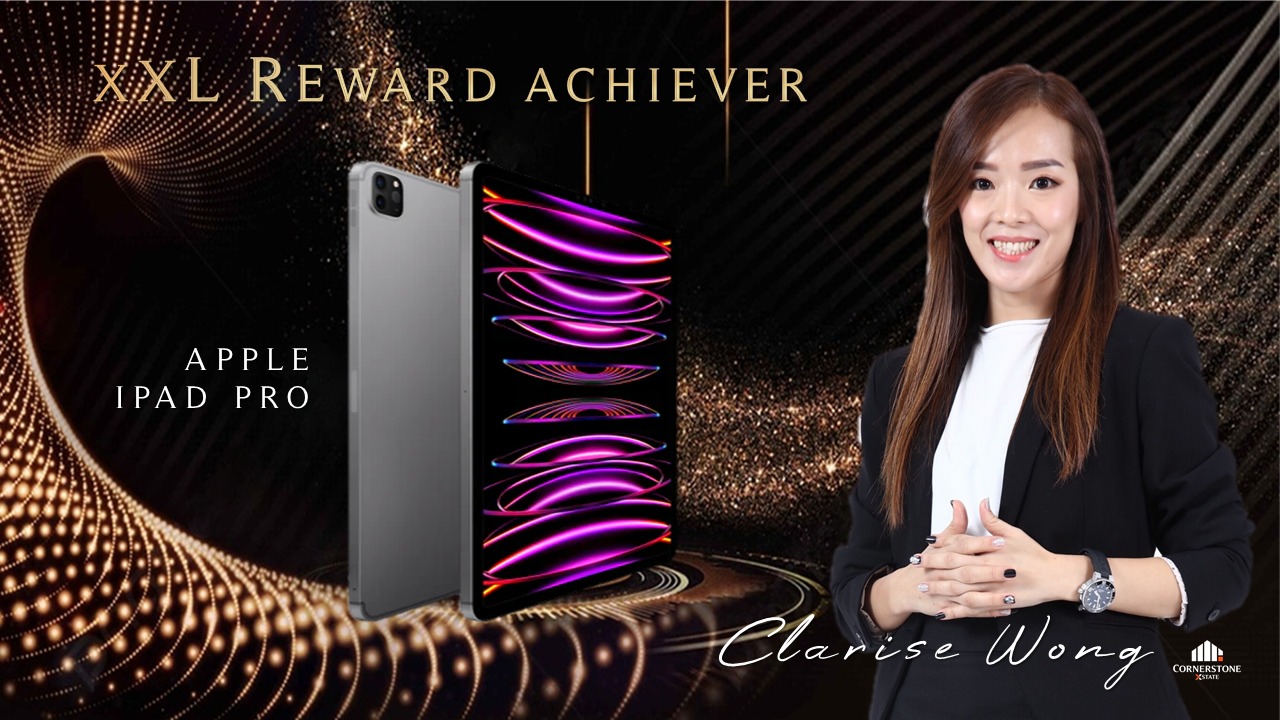 XXL Reward Achiever for April 2023
Cornerstone Xstate is absolutely delighted in awarding the XXL Reward Achiever for April 2023 to Clarise Wong who won a brand-new Apple iPad Pro for her phenomenal performance in sales with her ground-breaking achievement as Top Head of Sales Champion in March 2023. A hefty congrats & big bravo to Clarise, you go girl!