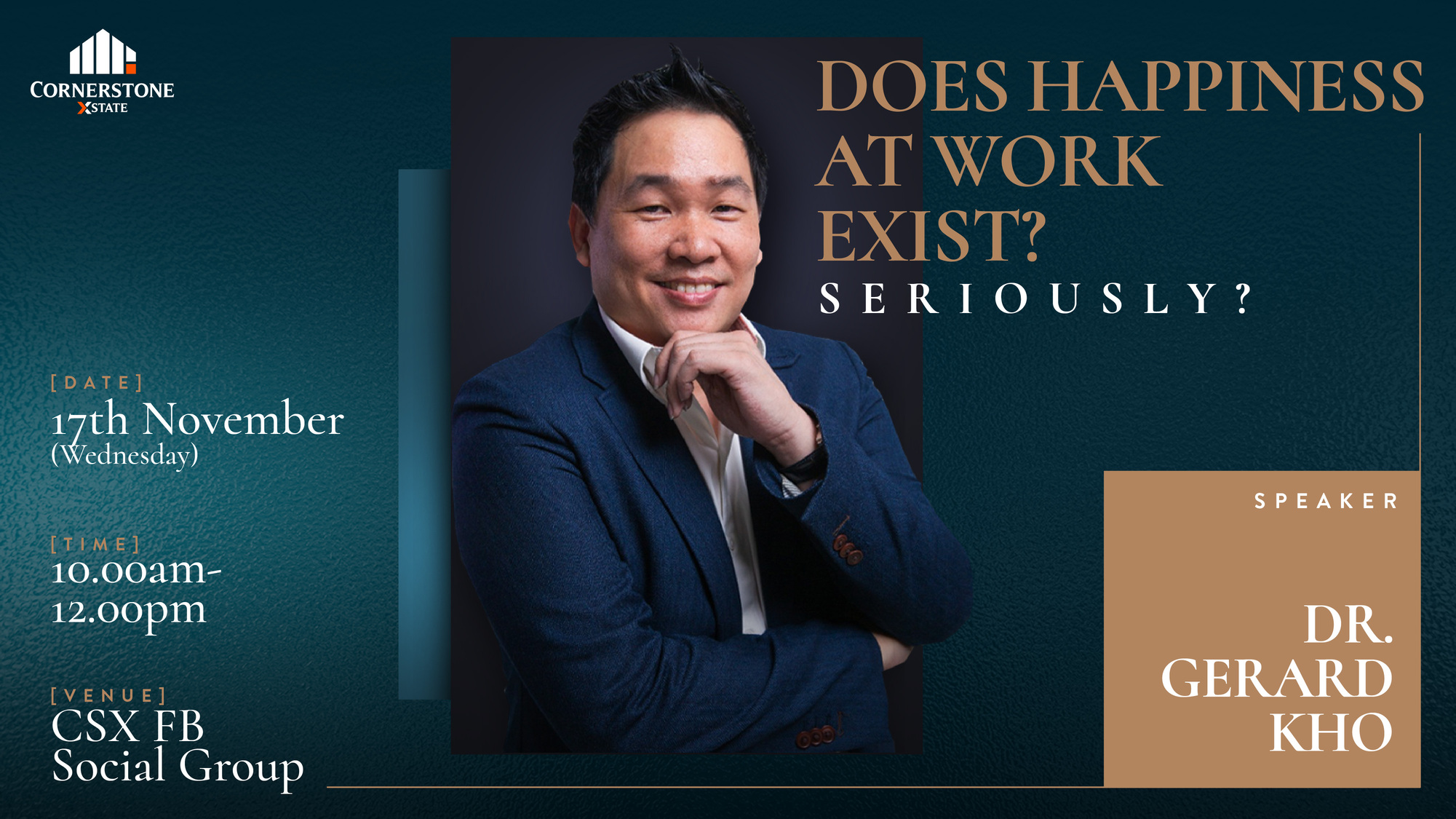 CSX LIVE BREAKTHROUGH MEETING ft DR. GERARD KHO@NOVEMBER 2021
18-11-2021
In this exclusive monthly session of CSX LIVE! Breakthrough Meeting, Cornerstone Xstate is proud and privileged to feature Dr. Gerard Kho, our very own CSX Advisor who is a multi-disciplinary, multi-industry change leader with extensive experience across various online and offline industries. Dr. Gerard currently holds two change leadership roles at WebTVAsia (WTV), a digital e-commerce and entertainment setup as well as AceEdventure, a K-12 education group. Prior to joining CSX as a resident advisor, he was a property consultant with Sunway Property Group and chief marketing officer (CMO) during his tenure at Medini @ Iskandar Malaysia. Gerard is also a renowned speaker in major forums and events both locally and regionally encompassing real estate, healthcare, education, leadership, business & marketing. During this breakthrough session, he demystifies and unravels the hidden secrets of happiness and what it means to be happy at work. It's a trail-blazing adventure and personal journey on the trail of HAPPINESS!
Seeking everlasting happiness is one of humanity's most enduring quests. We all seek happiness in one form or another, whether it is fulfilling our deepest desires for self-gratification, personal cravings and innermost fantasies. Happiness can also come to us when we help others achieve their goals and dreams as well as enriching their lives and livelihoods. Money also plays a key role in personal happiness however living a lifestyle solely based upon wealth, abundance and prosperity does not always lead to a happy life. Discovering the value of happiness is much more important than knowing the price of happiness. Moreover, happiness cannot be measured but we can certainly experience happiness in all its glory, majesty and beauty.
Career-wise, finding happiness in one's profession somehow correlates to happiness within one's household. Naturally, if you are happy at home, you will be happy at work too. It's all about striking a fine or delicate balance between home and workplace. Financial freedom and economic independence are also essential prerequisites to finding one's happiness. In a nutshell, reaping rewards, attaining abundance and seeking satisfaction they all lead towards true happiness via our own unique pathways and destinations.
Learn to ponder on your happy moments even during times of misery. Be grateful for what you have and always count your blessings. Finding purpose in life is essential in finding real happiness. Ultimately, happiness is a choice. If you choose to be happy then you shall be happy. Learn to live each day as if it is your last. Always live your life for yourself and not others. Free yourself from the dogma or dogmatic beliefs of others. Have the courage to follow your heart and constantly believe in yourself. So, just be yourself and live your dreams!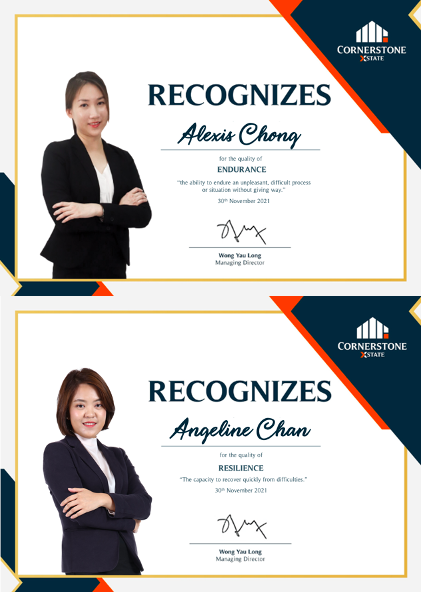 Monthly Character Recognition (Rens&Leaders)
In the Monthly Character Recognition segment, Cornerstone Xstate honours a real estate negotiator who exhibits the noble virtue of ENDURANCE which is a character trait exemplified through grit, tenacity and determination. Despite experiencing countless setbacks in closing deals, Alexis Chong constantly persists and perseveres amidst the many trials and tribulations. Even though most of her project cases were either shelved, postponed or terminated due to unforeseen circumstances, Alexis never gave up hope and always rose up to the occasion and embraced the challenges. Her ability to endure endless hardships and difficulties is truly admirable and awe-inspiring indeed!
Cornerstone Xstate also recognizes a team leader who possesses the timeless character of RESILIENCE which is the ability to withstand adversities and recover or bounce back from failures. A real lady and a soft-spoken person at heart, Angeline Chan is truly capable, charismatic and compassionate. While Angeline is currently struggling to balance her work with life as a mother, after getting married and having her first child with Eugene Wong, she continues to upskill herself and even embark in professional training courses in helping her hubby build a dream team to further enrich the lives of her team members and fellow colleagues. Congrats once again to Alexis and also Angeline for their ground-breaking accomplishments, and continue to keep up the great work girls!
During this monthly meeting, we also witnessed deal-breakers from seasoned agents and multitudes of closings from newbie negotiators. Mega producers and top teams received our recognition for their diligent efforts, hard-work and unwavering passion. Teamwork truly makes all the dreams work! Cornerstone Xstate shall continue to invest in creative tools and new methodologies, digital marketing strategies as well as innovative smart technologies. We at Cornerstone Xstate are happy to express our greatest appreciation and also wish a big THANK YOU to Dr. Gerard Kho for an inspiring, informative and illuminating sharing session today!
Continue to brave the storm, and conquer all adversities and challenges. Together as a united family, we will remain in the game. Always stay motivated, keep moving and continue hustling, and above all, stay and remain HAPPY!