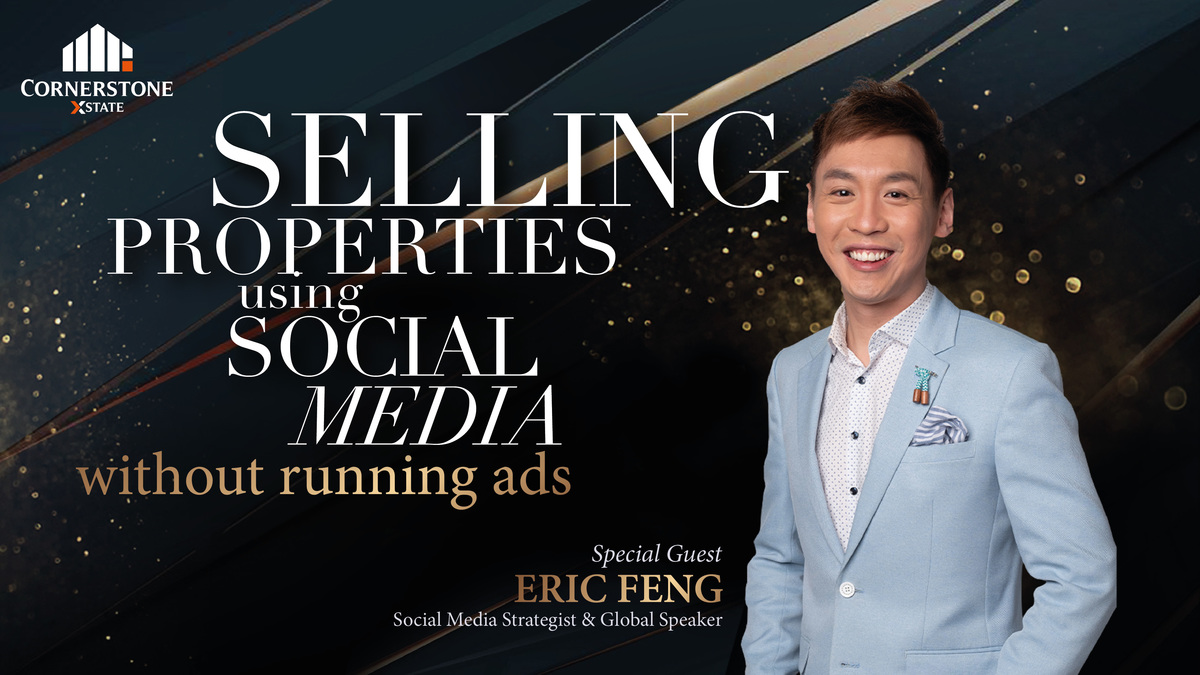 CSX LIVE BREAKTHROUGH MEETING ft Eric Feng @May 2021
20-05-2021
Be a solutions provider, not a product pusher!
In this day and age of information technology, the role of social media is increasingly taking precedence amid a global pandemic. During this monthly session of CSX LIVE! Breakthrough Meeting entitled "Selling Properties Using Social Media without running ads", Cornerstone Xstate is proud and privileged to feature a renowned social media strategist and also global speaker who rose to prominence from an unknown trainer to a social media extraordinaire and also global speaker. Eric Feng who hails from Singapore was recently featured in MAREC 2021 as a keynote speaker. He's also a strategic consultant for major clients and corporations all over the world. In this session, he talks about the essence of how to social sell to clients as well as building rapport through online channels.
With the advent of social media, gaining influence and building a brand is fast becoming a trend. Creating brand awareness through product is only as effective as personalizing the sales transaction. In order to stand out from the competition, real estate agents must consolidate their marketing strategies in terms of communicating their product and establishing trust with their respective prospects. In addition to running ads, having a comprehensive social media platform is key to creating a greater impact in one's profession as well as maintaining greater sustainability in their property sales. "Better be a big fish in a small pond than a small fish in a big ocean."
In order to leverage social media, Eric introduces his innovative approach to growing prospects on social media. Apart from one's professional database, creating personal content is vital to growing one's real estate portfolio. You are either known for your product or for your market. To be a successful realtor, you need to create niche ideas to market your properties. In short, don't just document your creative contents but also share your life journey. People are more engaged and inspired by such humanised stories. Ultimately, it's all about building relationships and bringing value to others. To sum it all up, "Always aim to be a solutions provider rather than a product pusher!"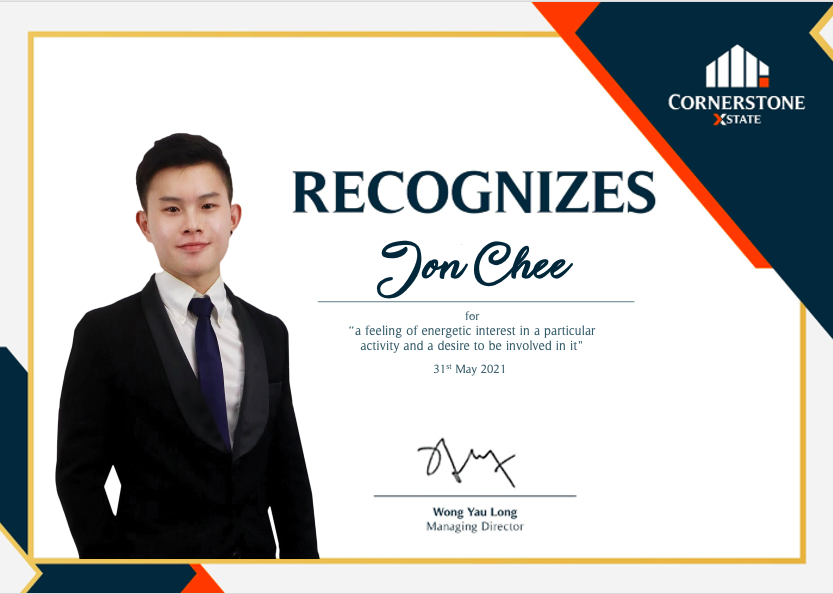 Monthly Character Recognition
In the Monthly Character Recognition, Cornerstone Xstate wishes to pay special tribute to a senior negotiator and team leader who demonstrates great ENTHUSIASM toward his beloved profession. This maverick negotiator is always willing to help out his team mates who are in dire need of assistance. Whenever faced with challenges, he often goes out of his comfort zone and beyond his call of duty to solve problems encountered by customers and colleagues alike. A BIG congrats, kudos and bravo to Jon Chee for attaining this milestone award. We at Cornerstone Xstate are so proud of your breakthrough achievement!
During this breakthrough meeting, we also witnessed more closings and deal-breakers from seasoned agents and newbie negotiators. We also honoured mega producers and top teams in recognition of their diligent efforts, persistent hard-work and unequivocal passion. Cornerstone Xstate shall continue to invest in creative tools and new methodologies, digital marketing strategies as well as innovative smart technologies. And as always, teamwork makes the dreamwork. Just remain in the game, never ever give up, stay motivated and keep hustling folks!
Once again, we at Cornerstone Xstate would like to express our greatest appreciation and a big THANK YOU to Eric Feng for an awe-inspiring yet thought-provoking sharing session today!