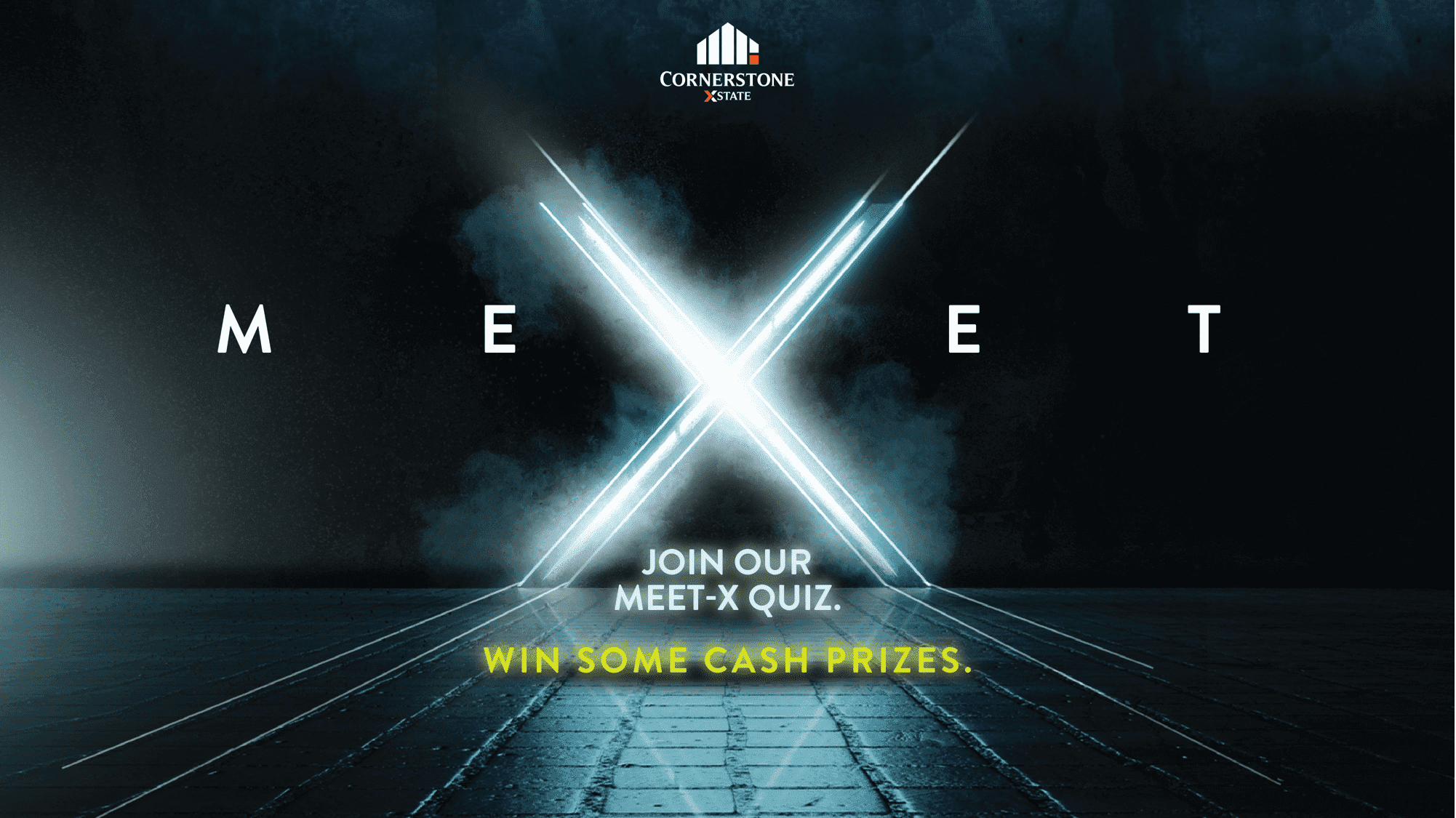 CSX MEET-X MEETING @MARCH 2022
17-03-2022
Introducing OMG Free Reno, the fintech revolution that provides breakthrough renovation in property
During this Meet-X session, Cornerstone Xstate is proud and privileged to feature a special guest speaker from OMG Free Reno who explains in-depth the key benefits of this revolution in property renovation. Recently, both MIEA and OMG held a landmark MOU signing ceremony among their strategic partners including CSX to help promote this game-changing resolution in the real estate marketplace. By harnessing the potential or prospects of this award-winning fintech platform, agents, investors, and homeowners can sell their properties without breaking their budget or bank account. Last but not least, CSX folks were treated to brain-teasing trivia through CSX's Meet-X Quiz with cool cash prizes up for grabs!
Properties are often difficult to sell owing to their lack of physical appeal or the lack of home décor and accessories such as furniture as well as other fittings and paraphernalia. But sometimes even fully-furnished units can be equally as hard to sell or rent. This is partly because a simple renovation or refurbishment exercise can be a pretty costly or exorbitant affair, not to mention hiring contractors, specialists and other professionals including interior designers to get the job done. Yet, sprucing up one's home need not necessarily be a budget-breaking or a bank-busting experience. Whether you are an aspiring homeowner or a seasoned investor trying to offload a property, or even a real estate negotiator trying to market a product to a potential client, OMG Free Reno has the right solutions and package to suit your budget and requirements. Through its strategic partnership with T.A. Furniture Industries, OMG Free Reno also provides some of the best furniture selections in the market at truly affordable prices. Customers are also spoilt for choice when it comes to the many makeover options for the living room as well as the interior ambience available within its inventory.
The mantra or philosophy of OhMyGosh! Free Reno revolves around a targeted market of property investors and homeowners who wish to enable their properties to be more viable, saleable and marketable by leveraging on the company's "renolution" principle. Thank you once again to Roy for an informative and illuminating sharing session today.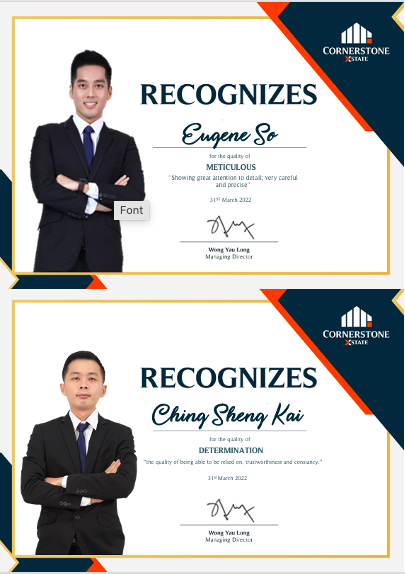 Monthly Character Recognition (Rens&Leaders)
In the Monthly Character Recognition segment, we are proud to honour an exemplary real estate negotiator who exhibits the noble attribute of DETERMINATION, a timeless trait that embodies endurance, staying power, sheer grit and unwavering perseverance in the face of failure or great adversity. Ching Sheng Kai has certainly come a long since his early years prior to joining real estate. He consistently delivers on his goals and objectives without any fear or favour. At CSX, he constantly performs beyond all expectations and against all odds. A true friend, trustworthy teammate and dependable family member who is ever willing to lend a helping hand to those in need. And he always rises to the occasion in embracing challenges and enduring hardships period.
Cornerstone also recognizes an outstanding team leader who possesses the virtue of METICULOUS; one who is seen to be detailed or thorough, whose attention to detail and nitty-gritty is second to none. Eugene Soh is not only meticulous in character, but he is pretty punctual by nature. He often sets lofty standards, leads by example and walks the talk at all times. Being a trustworthy and dependable individual, he is also very much loved and revered by his teammates as well as fellow colleagues alike for wanting to improve their lives and livelihoods. A big bravo, kudos and congrats once again to Sheng Kai and Eugene for their breakthrough success and awesome accomplishments…great job guys!
During this ground-breaking meeting, we witnessed more closings and deal-breakers from seasoned agents and newbie negotiators alike. We also paid tribute to mega producers and top teams in recognition of their diligent efforts, unwavering passion and persistent hard work. Teamwork truly makes all the dreams work! Together as one united family, we shall brave the storm, conquer all adversities and challenges, and always remain within the game. Continue to BE INSPIRED, STAY MOTIVATED, KEEP MOVING, CONTINUE HUSTLING and LIVE HAPPY!