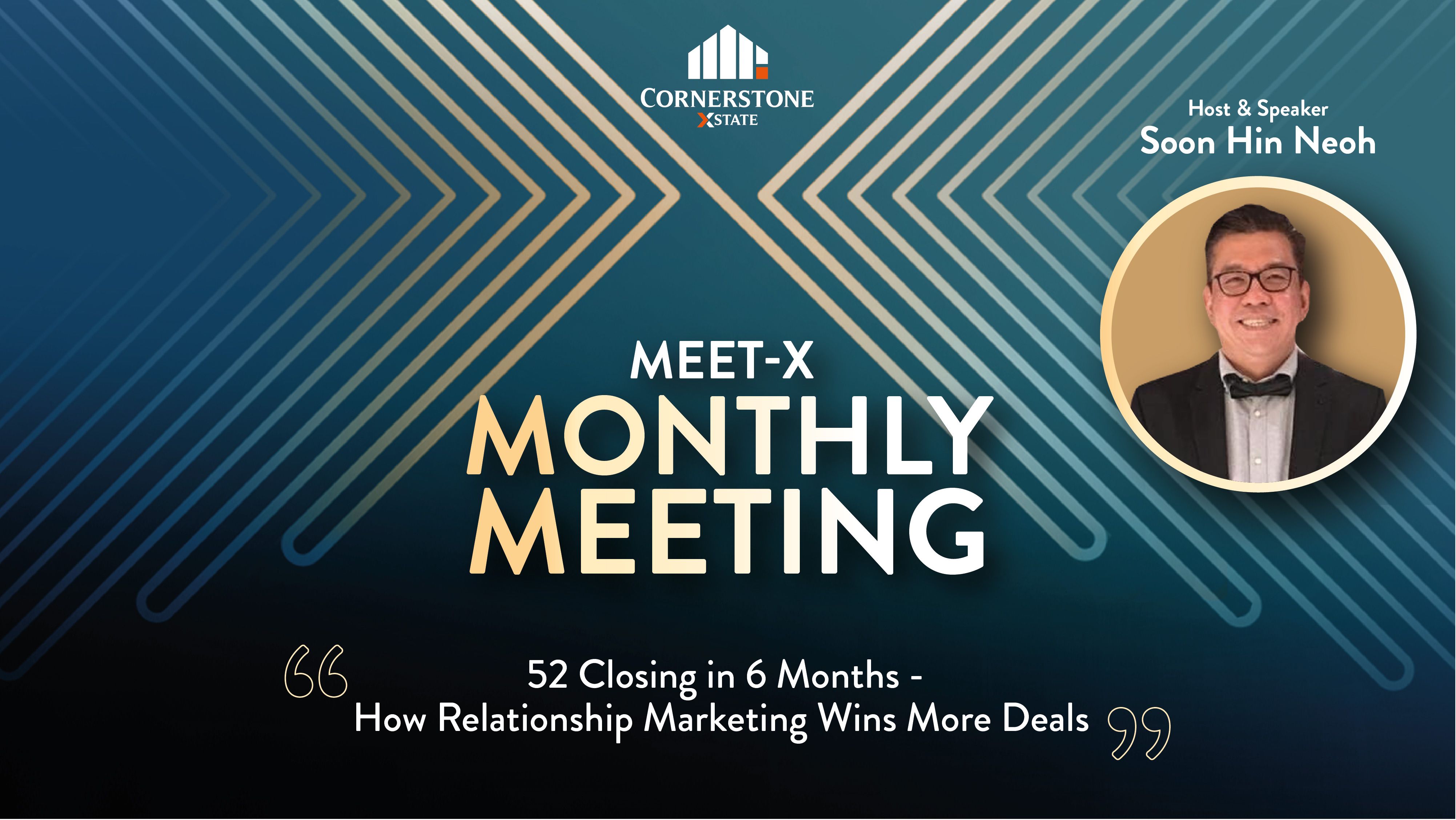 CSX MEET-X MEETING @NOVEMBER 2022
21-11-2022
In this edition of Meet-X, we join veteran negotiator Soon Hin Neoh as he shares his personal story and secrets of closing 52 property deals in just 6 months. It is imperative for agents to learn the importance of relationship marketing in enriching their real estate careers. Develop robust relationships with clients, discover potential opportunities for professional growth as well as leverage on the unlimited prospects of project marketing in maximizing one's sales. CSX wish to thank Mr. Soon for a truly inspiring, informative and illuminating session today!
The real estate business is built upon relationships. Building a solid and healthy relationship with your client or customer is key to your success in the long run. You not only want to create a profitable business but also a sustainable one for the long term. Agents and negotiators must recognize the importance of developing strong relationships in order to close more deals. The benefits and advantages of securing the trust and goodwill of your prospects is quintessential for your property business.
It is a real grind and daily struggle to close property deals for majority of agents and negotiators out there. But once the relationship bond is sealed, it literally becomes a breeze and second nature in this business. The challenge often lies with agents and negotiators having to learn the art of communication well enough to impress prospects whether it is through project presentations or property viewings. It basically boils down to building rapport and forming chemistry with your prospects.
Maintain a cool and cordial relationship with clients by occasionally sending them gifts or presents. Personalized messages and greetings are useful and helpful reminders that you constantly care about them. Relevant information such as property reports and current affairs are also beneficial to the entire agent-client relationship. Ultimately, it is all about adding value and nurturing a good relationship. Planning and strategizing your business via project marketing is another great way to expand your portfolio and grow your business exponentially. Find new ways to spice up the relationship, and you shall reap abundant rewards!
In this Monthly Character Recognition segment, we wish to honor a real estate negotiator whose PERSISTENCE is truly awe-inspiring without a shadow of a doubt. Despite the uphill struggles with little progress early in her real estate career, Tay Han Nee truly believes in pursuing her goals and dreams without any compromise. She remains steadfast and always perseveres in overcoming the many obstacles against all odds. Amidst the countless challenges within Mont' Kiara EBU, Hannee continues to display diligent efforts in order to produce spectacular results. The trick is to strive in the face of adversity constantly. And being persistent is the ultimate key to SUCCESS!
We are also pleased to pay special tribute to a member of the support team for her endearing TRUTHFULNESS in the line of duty. Sally Ang is, without doubt, one of the most sincere, righteous, and conscientious individuals one shall ever meet at Cornerstone Xstate. Not only that, she is diligent, disciplined, dedicated, and dependable. As a key staff of CSX, she always performs all her tasks and assignments to the best of her ability without conditions or compromises. Sally seldom minces her words and often speaks her mind at all times. With her, what you see is what you get! But most importantly, her honesty begets and beholden anyone who knows her personally. A real GEM of an employee indeed!
During this meeting, we witnessed more closings and deal-breakers from seasoned agents and newbie negotiators alike. We paid tribute to mega producers and top teams in recognition of their diligent efforts, unwavering passion, and persistent hard work. Teamwork truly makes all the dreams work! Cornerstone continues to invest in new tools and creative methodologies, digital marketing strategies, and innovative smart technologies. Thank you once again to Soon Hin Neoh for being such a warm and wonderful host throughout this session. Together as one united family, we shall brave the storm, conquer all adversities and challenges, and always remain in the game.
CSX shall continue in its quest towards guiding agents, transforming people and enriching lives!