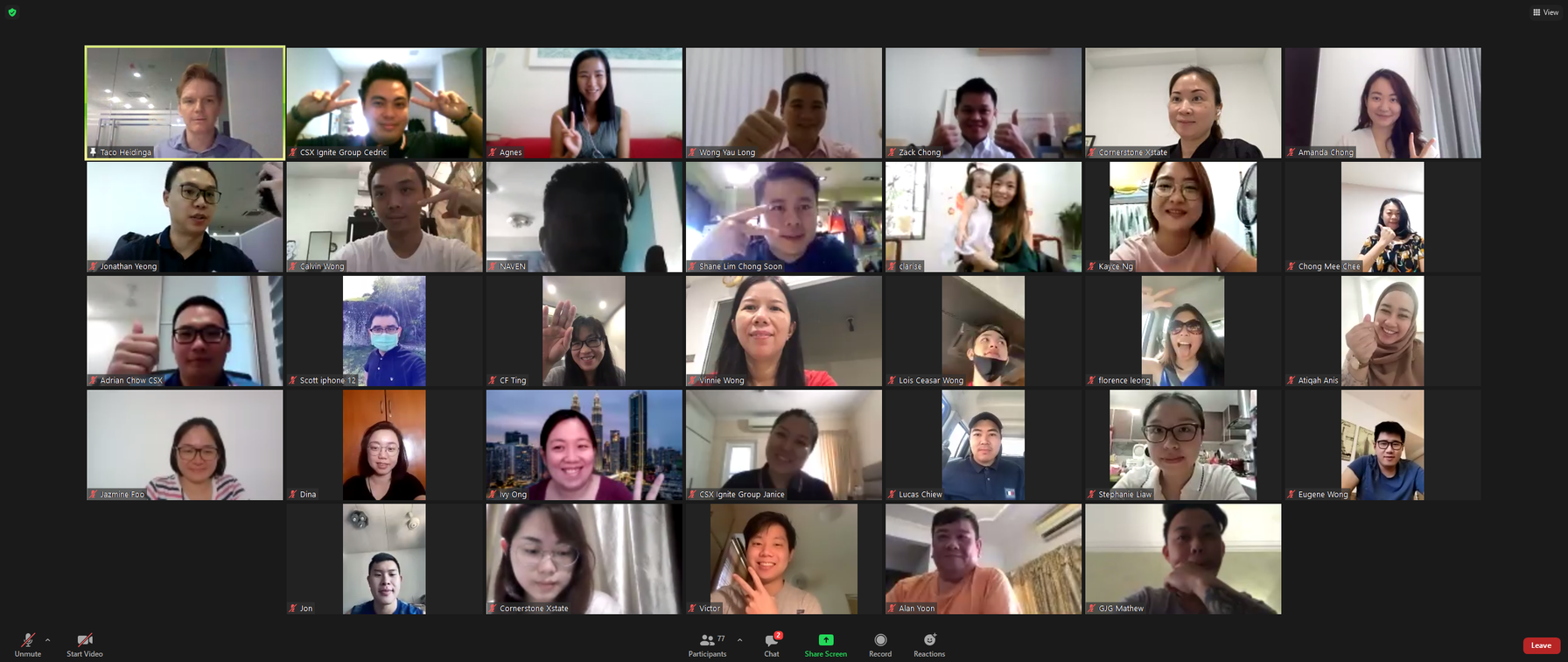 CSX Presents 'Talks with CSX Producers' – PART 2
03-02-2021
Team Work Makes the Dream Work in Closing Mega Deal$
This week, Cornerstone Xstate hosted another round of 'Talks With CSX Producers' via Zoom to highlight the struggles and challenges of finalising a sales transaction throughout trying times. Amidst a raging pandemic as well as recurring MCO, agents and negotiators continue to close ever more deals. During this live meeting, we saw Amanda Chong, Agnes Geh, Cedric William and Zack Chong sharing their many pertinent ideas and positive outlook in successfully closing any deal.
Amanda is a diligent, dedicated and disciplined agent who often makes it her top priority in creating a robust schedule in her routine marketing activities. One of the key prerequisites to any successful closing is following up with clients consistently, and finding out their needs and requirements. Her principle focus on building relationship has also reaped her abundant rewards. When you show people you truly care, you gain their trust and confidence. As she aptly puts it, always put relations above transactions! Last but not least, maintain a good sales momentum and constantly stay in touch with prospects.
Agnes firmly advocates building strong relationships with high net-worth customers who account for the bulk of her transacted deals. Personalising transactions is quintessential in adding value to clients through verbal appreciation and complimentary gifts. It is not about competing with others but elevating one's growth and development. Be it sunny days or dark times, she outlined four key points in coping with a downturn or rock-bottom in any transaction. This includes obtaining actionable advice, identifying allies or mentors, and getting emotional support from fellow peers and colleagues alike. It is all about working together folks – "Team work makes the dream work!"
Cedric is a maverick negotiator who shares the view that real estate prospecting revolves around building confidence, gaining trust and serving clients with sincerity and honesty. Taking full advantage of the wide array of benefits offered by the HOC despite a lacklustre market is highly beneficial to both agents and prospects. There is also a need to hype up or psyche up oneself prior to any meeting, appointment or presentation in order to successfully close deals. Always remain consistent, learn new skills and keep moving forward!
Zack is a seasoned real estate negotiator of fifteen years. Changing one's mindset is about conquering one's fears and battling constant procrastination – a never-ending challenge on a daily basis. Always thinks positive and stay disciplined. Acquire the right knowledge, skill set and acumen. Take baby steps in improving oneself by having "the slight edge". Never hesitate to ask for help or assistance from others.
Whatever the adversities or challenges encountered, CSX agents and negotiators are in it for the long haul. In the competitive business of real estate, it is vital to set one's sights on the horizon and to play the 'infinite game' – that true success is for long-term advancement and not just for short-term gain. Cornerstone Xstate shall continue in its quest to guiding agents, transforming people & enriching lives!