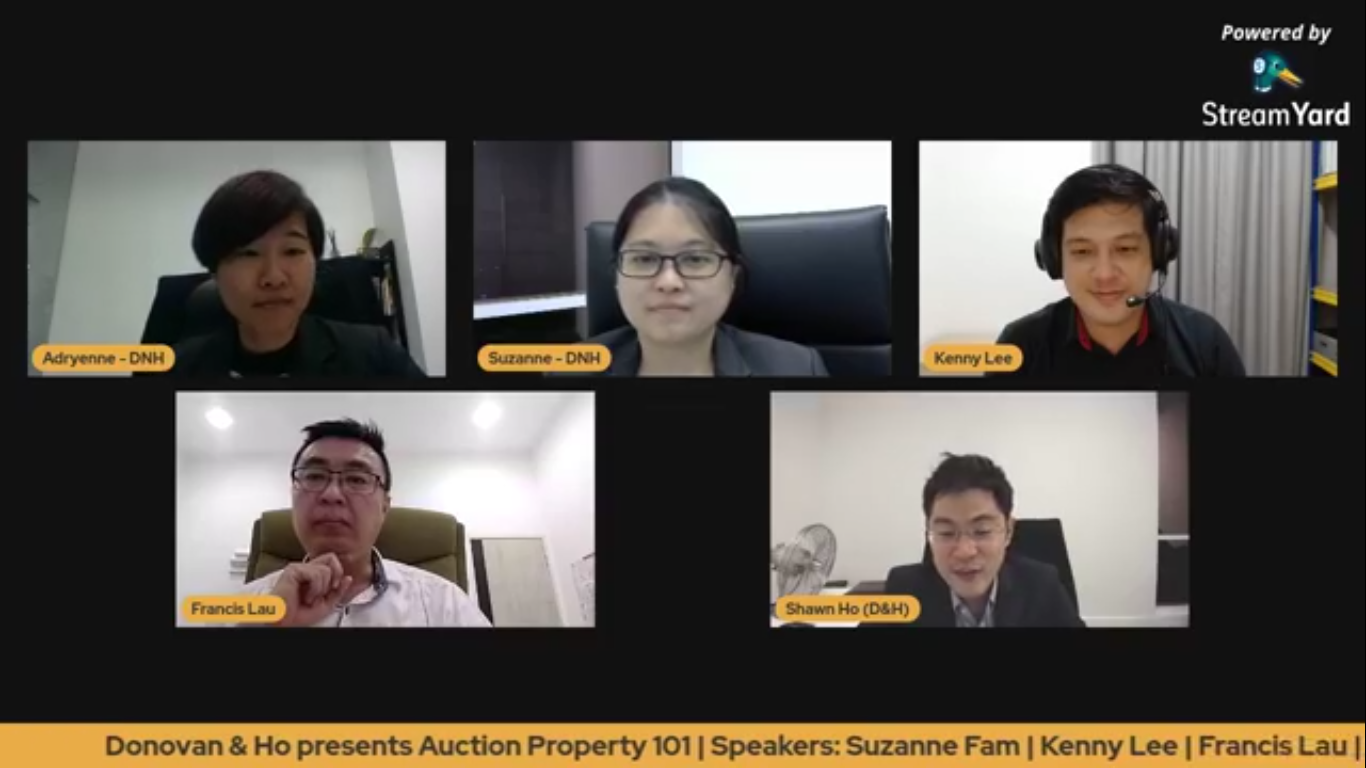 Exclusive Talk about Auction Properties ft CSX Exec. Director Francis Lau!
30-03-2021
Demystify key ideas and identify pitfalls in auction property
Property auction is fast becoming a cool & trendy alternative to seek a home amid an uncertain property market. During this sharing session via StreamYard organized by Donovan & Ho, we join four seasoned real estate practitioners in the quest to demystify auction property and debunk its many myths and misconceptions. To enlighten Malaysians on the pros and cons of dealing with auction property. They are none other than Suzanne Fam, Kenny Lee, Shawn Ho, and Cornerstone Xstate very own Francis Lau. Suzanne is a senior associate at Donovan & Ho specializing in property and conveyancing. Kenny is a real estate agent cum author and mortgage banker. Shawn is the co-founder and partner of Donovan & Ho. and Francis is the executive director of Cornerstone Xstate, a registered financial planner, a real estate agent as well as a licensed auctioneer.
Some of the common myths and misconceptions associated with auction deals are typically misconstrued as facts. On the surface, auction properties are always perceived as being so cheap although these properties sometimes incur unpaid utility bills and sewerage fees as well as outstanding renovation costs. Overbidding also tends to drive up the final price of the property in question. They are also seen as old, debilitated, ill-maintained, under-valued, and not up to living standards. But in reality, most of them are relatively new units often in tip-top condition and are some times located in prime areas such as KLCC and Bangsar. The notion of auction properties being cheaper is because they are off-loaded by developers to clear their stockpile of overhang properties. Auction properties are also ideal in attracting foreign buyers and investors such as expats who cannot find a home.
Prior to the onset of the pandemic, the conventional method of property auction is done via the appellate courts. With the standard LACA (i.e. loan agreement cum assignment) option whereby land title is not issued, the auction itself is run or operated by an official auction house. Amid the current pandemic, all auctions are now conducted online through an electronic bidding process from the total safety and comfort of your own home. There also exist several distinctions between buying sub-sale property and auction property. One of them is the time-frame for completion. Through LACA, it takes about 90 days (3 months) from the date of sales confirmation. With the non-LACA option, it takes some 120 days (4 months) after the initial signing of the SPA. Documentation-wise, the proclamation of sales (POS) is treated like an SPA. Non-LACA typically refers to freehold and strata land titles. For titled properties, an application is through the land office and for non-titled properties, it involves court procedures.
The location of the property in question also presents a challenge for home financing, be it for auction property or secondary properties. Flood-prone as well as landslide-susceptible zones and residential areas are an absolute no-go for banking loan approval. Some of the due diligence is also required to avoid the pitfalls in getting loan approvals amidst the underlying hidden costs linked to auction property. Always appoint a solicitor or lawyer to check your outstanding utility charges. Perform a simple land search to identify your property status such as tenure (freehold or leasehold), lot size (unit area), incumbrances and restrictions. You may also check out the developer's master title – whether it is bumi or non-Bumi. Removing third-party caveats in property search is also desirable for future homeowners to ensure a hassle-free transaction.
Additional prerequisites in getting a banking loan, this includes the eponymous 5C's in assessing an applicant's relevancy or suitability in obtaining a loan such as character, capacity, capital, condition and collateral. 'Character' implies one's personality, social status and economic standing. 'Capacity' refers to one's ability to service one's bank loan or the "debt-to-service ratio" (DSR). 'Capital' relates to one's personal cash flow or financial liquidity. 'Condition' pertains to your CTOS and CCRIS scores or statistics whether or not you qualify. 'Collateral' is the hedge you provide to leverage on your home loan.
Once again, thank you to all our guest speakers for sharing their key views and insights during this informative and inspiring dialogue. CSX also wishes to extend its warmest greeting and sincerest appreciation to Donovan & Ho for inviting Francis Lau as special guest.