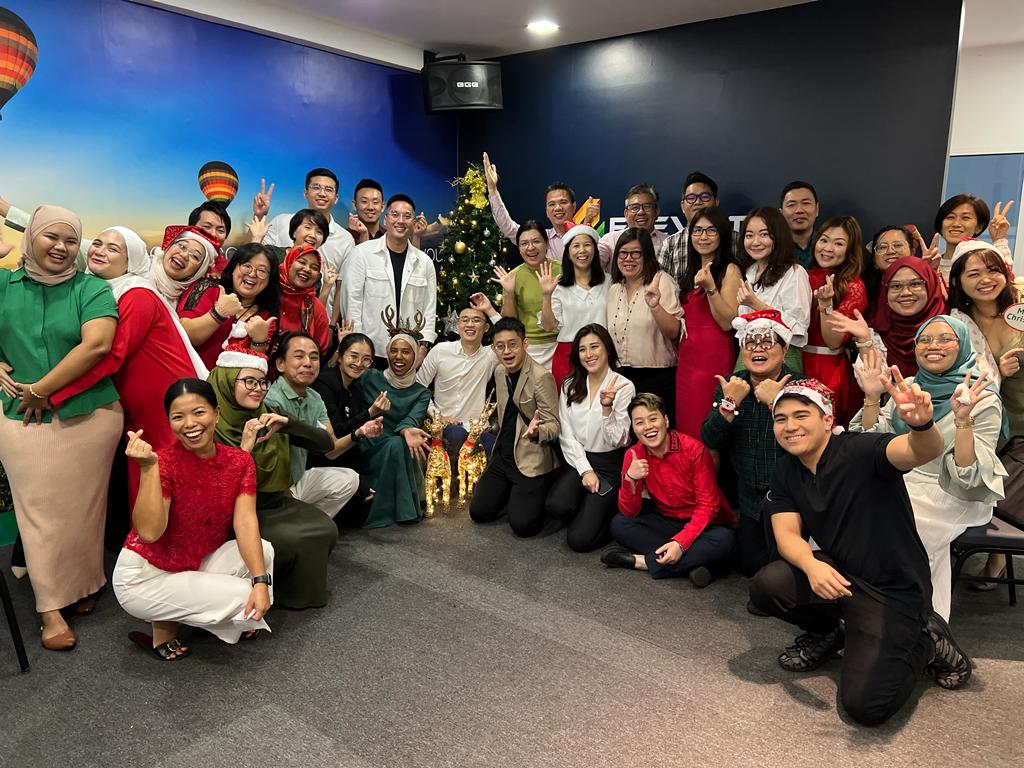 LIVE! Meet-X ft X'mas Potluck Party
27-12-2022
Sharing the bliss and blessings of Christmas with Cornerstone team!

It's that time of the year again when we usher in the joy of Yuletide with all our families, friends and colleagues. In this exclusive event edition of Meet-X cum X'MAS POTLUCK PARTY, Cornerstone celebrates Christmas with agents and negotiators whilst paying top tribute to their sales achievements in real estate. Veteran negotiator, property trainer and resident coach Soon Hin Neoh hosted this month's meeting with wit, humor and gusto. Attendees listened to the success stories shared by team members. Participants merrily feasted on delectable dishes and exchanged gifts amongst themselves. Thank you to Coach Soon for a truly inspiring, informative and illuminating sharing session today!
A special shoutout to Berwynn Chia for winning the XXL Rewards 2022 (which was inspired by the managing director himself) of a brand-new Apple iPhone 14 Max Pro for closing FIVE property deals through the PAR3 project. He closed this mega deal solely from the referrals of ONE single customer alone! Now, that's the true power of REFERRAL! This deal is seen as a truly impressive feat considering the fact that the client in question had signed the SPA for all five units and paid fully in cash! A big bravo, kudos and congratulations to Berwynn for his great passion, persistency and perseverance in accomplishing his dream! As Coach Soon said with oomph, "Success is not a sprint, but a marathon."
What are your dreams or resolutions for the new year? For most of us, making plans and resolutions are part and parcel of setting goals and ambitions in life. Yet our lofty dreams do not quite match or correlate with our real-world achievements. But we can learn to leverage on the potential of the inner mind by tapping on the power of visualization and imagination. The greatest transformation finally happens when our subconscious mind converts all our dreams into reality. Dreams usually manifest within the subconscious state. The simple act of putting down our deepest desires in writing actually helps to reinforce and realize our dreams. For more anecdotes and examples on the secrets of the mind, of changing one's mindset, how to attain unlimited success as well as achieving the impossible, please read 'The Alchemist' by Paulo Coelho. A videoclip portraying successful people with dreams was also shown.
Wong Yau Long also shared his lifelong dream of one day public-listing his beloved brainchild Cornerstone Xstate in 5 years' time by 2027. This will certainly contribute a more robust and greater financial strength or prowess to Cornerstone itself. Yau Long aspires to provide the perfect platform in enriching the lives of agents and negotiators via various key activities such as leads nurturing, skills development and technological advancement. Let us continue to strive harder, dream the dreams and close bigger deals in 2023. MERRY X'MAS and HAPPY NEW YEAR folks!
During this meeting, we witnessed many closings and deal-makers from seasoned agents and newbie negotiators alike. We also paid tribute to mega producers and top teams in recognition of their diligent efforts, unwavering passion and persistent hard-work. Teamwork truly makes all the dreams work! CSX continues to invest in new tools and creative methodologies, digital marketing strategies as well as innovative smart technologies. THANK YOU once again to Soon Hin Neoh for being such a warm, witty and wonderful host throughout this event. Together as one united family, we shall brave the storm, conquer all adversities and challenges, and remain within the game. As always, BE INSPIRED, STAY MOTIVATED, KEEP MOVING, CONTINUE HUSTLING and LIVE HAPPY!