Park Regent Redefines Luxury Living At Its Best!
03-02-2020
It is the epitome of luxury at its very best. Located at the award- winning township of Desa ParkCity in Kuala Lumpur, Park Regent is perhaps the ultimate luxury condo project ever envisioned in an increasingly competitive market of real estate development. The picturesque surroundings of DPC adjacent to Central Park and Central Lake makes for an ideal site for the construction of this carefully-crafted condominium. With a gross development value (GDV) of RM1.1 billion, this ultra-luxurious freehold residential enclave is jointly developed by Malaysia's ParkCity and Singapore's CapitaLand. It is anticipated to take luxury living to the next level!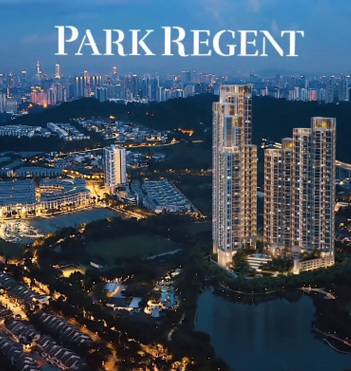 Park Regent comes in twin residential towers, with each tower having tiered design with the highest tier ending at the 55th floor. The condos come in various layouts with built-ups from 872 sf to 4,887 sf with average selling price of RM1,100 psf. Complementing both Central Park and Central Lake is a waterfall flowing from the infinity pool cascading over the carpark podium's front façade and framed by lush vertical gardens. The development blends itself seamlessly with the park surroundings of Central Park and Central Lake. The recreation deck and infinity pool form a green space with Central Park with uninterrupted skyline views of Central Lake.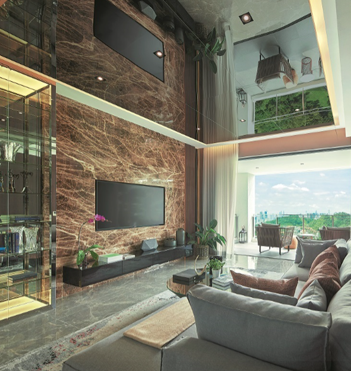 Being one of Park Regent's fundamental pull factors, Central Park represents a key design objective of the project in bringing nature into all aspects of the development – from strata level to the roof top. It literally feels just like living in a "bungalow in the sky"! The unique utilization of living spaces also allows residents to practise nature living, henceforth integrating their lives with nature itself. The abundant balcony spaces also act as a buffer or shield against direct sunlight beaming into the main living area and providing an unobstructed view of the exterior. A unique feature found in the larger residential units is the double balconies which promotes a sense of openness and natural-ventilated spaces. It is a concept of holistic living that creates a synergistic connection with nature via daylight and breeze permeating into the home and saving energy.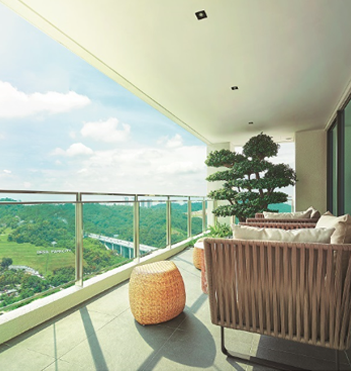 Balcony space has become not just an extension of the interior but works as a living space of its own. A spacious balcony is essential not just for aesthetics and appearance, but also functionality and practical purposes. The delicate interplay between interior and exterior Seeking a balance between material design and colour selection is crucial in capturing the character and essence of a home. Whether it is contemporary, classic, modern or luxe, the delicate interplay between exterior and interior design is key.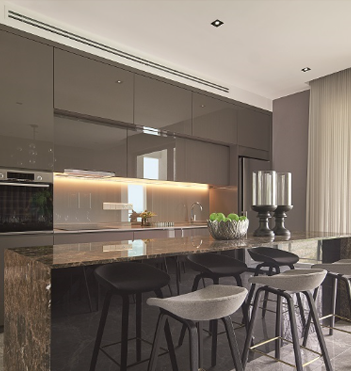 In the ultra-luxurious Type E2a show unit, mirrors and high-glass ceilings are used to create the effect of greater space within living areas, and wide glass panels used to frame the exterior landscape. There is also a private garden featuring a full-grown tree in a sunken planter that never ceases to amaze & inspire both visitors and residents alike. It is perhaps the most exclusive unit types in Park Regent as only sixteen units are available throughout the entire development.
(The price range is subject to change in accordance with the market rate.)
For additional information kindly contact:
Call : +6012-312 6561
or click the WhatsApp button below