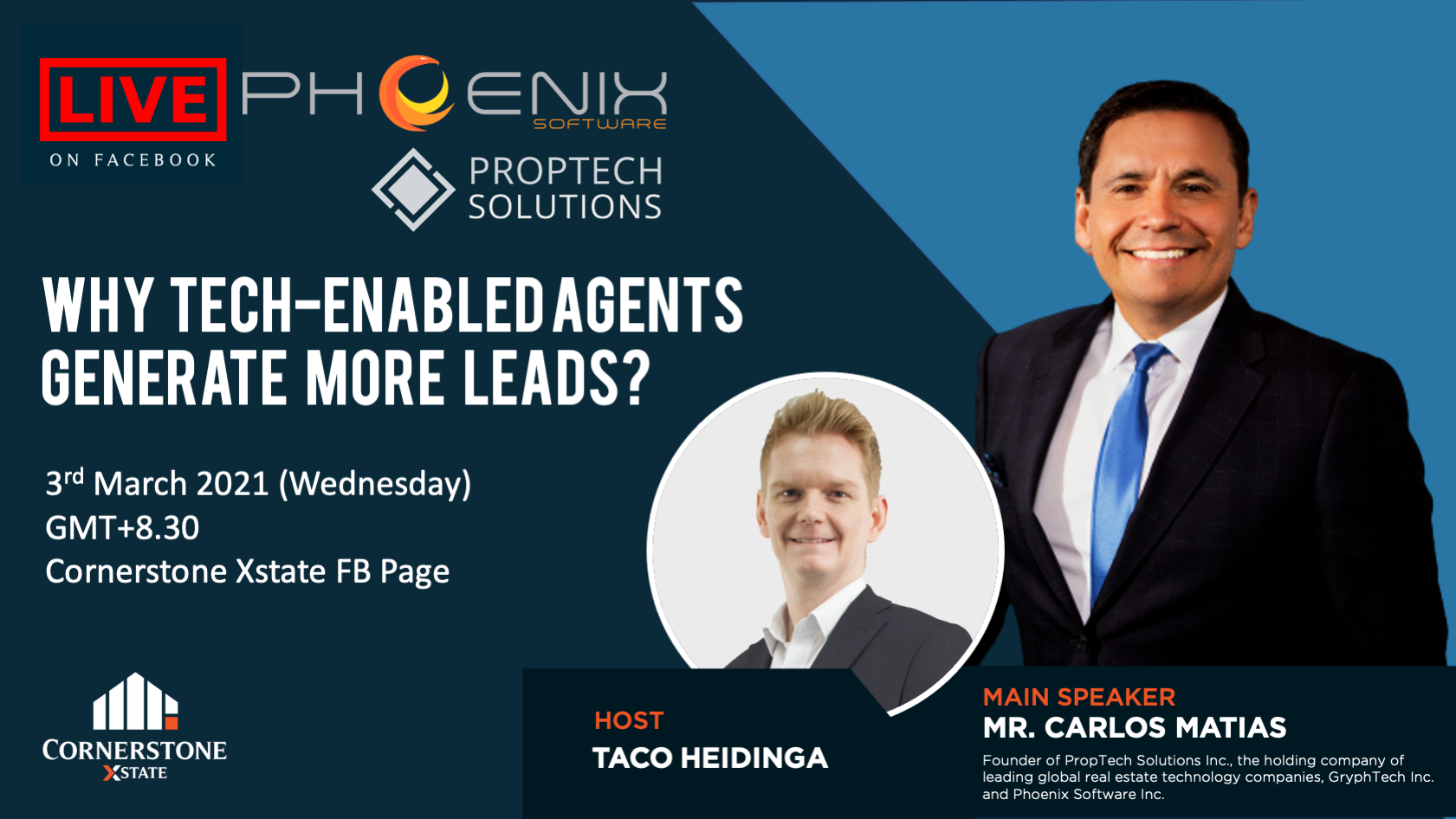 Why Tech-Enabled Agents Generate More Leads?
10-03-2021
In this session of CSX LIVE! Cornerstone Xstate is honoured to welcome a world-renowned authority on PropTech solutions all the way from Canada! Carlos Matias is the founder of PropTech Solutions Inc. which includes Gryphtech Software and Phoenix Software. With over two decades of experience serving real estate businesses in more than sixty nations, he is a visionary leader and a global authority on real estate technologies. Carlos is an active member of FIABCI, and was recently awarded the 2021 Risk Media newsmaker. Jet-setting all over the world, he is also an international speaker and consultant to many leading MNCs throughout the world.
Real estate has traditionally been a relational business with little need for technology support. A tech-enabled agent leverages on social media, CRM and other listing tools to generate leads in order to respond swiftly to clients using a methodical & process-oriented approach to serve customers. In short, leveraging on technology to serve clients better! Lead generation is the one of the core activities in real estate negotiation. Targeted advertising on social media and online marketing are vital in acquiring leads for real estate agents.
An ideal agent or negotiator is essentially someone who can help homebuyers find a dream home and who understands their overall needs and requirements. Agents shall continue to remain relevant in this industry for the long term as they often provide greater value in such complicated transactions whereby multiple parties are involved.
Using technology to enhance rapport as well as complementing relationships with customers. Having a database and buyer registry are key aspects to enable a seamless property transaction. More sales eventually lead to more customer referrals henceforth elevate the consumer experience with better prospects within the pipeline.
Carlos is a staunch believer in 'face-to-face' meeting despite his pro-tech advocacy and affiliation. Tech tools such as online meetings and virtual showrooms offer a new alternative to conversation in driving sales and creating leads. Such tools can help build greater trust with clients. Popular chat platforms such as WhatsApp, WeChat and Line also assist agents in better interacting and engaging with prospects.
Few companies have remained relevant in the PropTech industry. For over 24 years, PropTech Solutions Inc has maintained its dominance through constant adaptions and innovations. Competing PropTech companies are also leveraging on their own customer experience via alternative solutions. Always be a quality agent by providing comfort and confidence to clients, and also be a confidante to your prospects. When you focus upon quality, customer satisfaction shall prevail!
Carlos's final words of wisdom to real estate practitioners is continue to work hard, stay focus and never give up! With this, Cornerstone Xstate would like to thank Mr. Carlos Matias for a truly inspiring and informative sharing session!