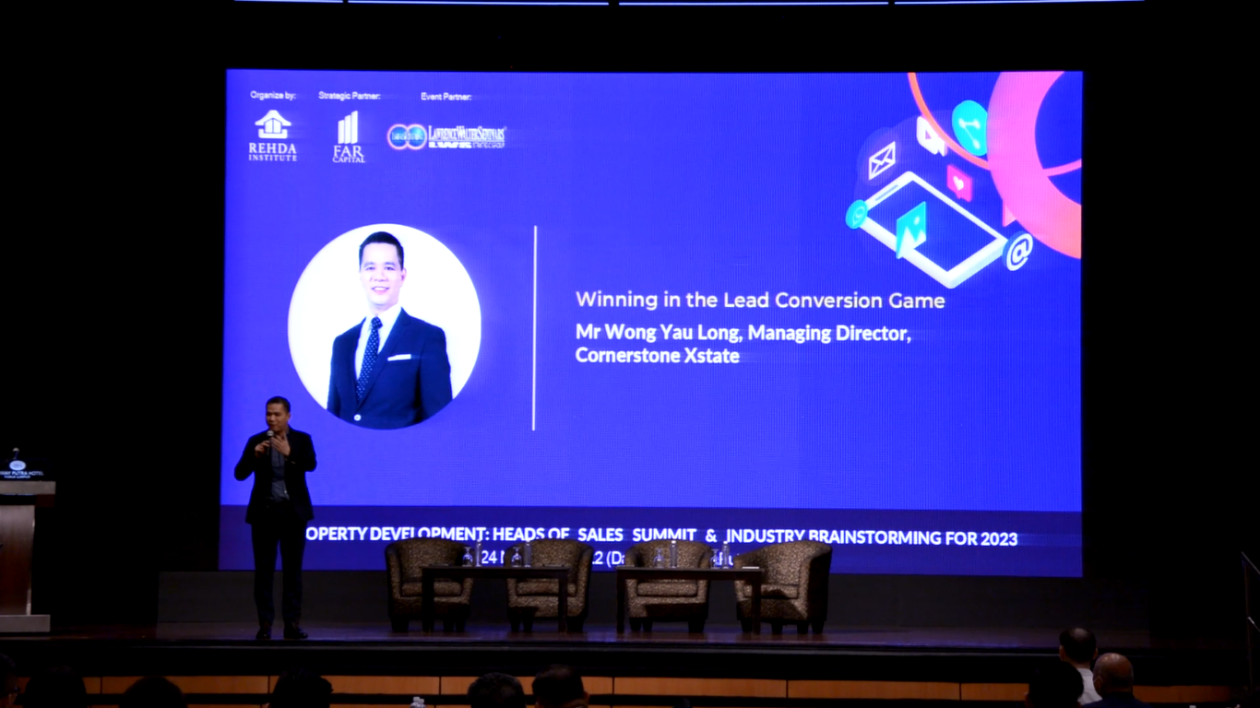 Winning In The Lead Conversion Game by Wong Yau Long
20-12-2022
Creating greater sales towards enriching real estate negotiators
Cornerstone Xstate under the astute helm of its managing director Wong Yau Long had the honor and privilege to be invited to speak at a prestigious property event organized by the Real Estate Housing and Developers Association (REHDA) titled Property Development: Head of Sales & Industry Brainstorming for 2023. Held at Sunway Putra Hotel, Kuala Lumpur from 23 - 24 November 2022. With the theme "Sales is the lifeblood of a Company", the two-day seminar featured a panel of property gurus, real estate practitioners, and captains of this industry who offered their expert opinions and professional insights into the realm of sales and marketing. Dubbed the most influential marketing and sales summit for developers in Malaysia, Mr. Wong talked about the importance of lead generation and conversion as well as key strategies undertaken by the company in creating greater sales towards enriching agents and negotiators.
Nurturing leads and targeting prospects
One of the highlights of the talk includes the agency's perspective on project marketing trends as well as creative sales and marketing strategies for boosting developer sales performance. Boosting sales has always been the main agenda and primary focus of property developers. The fundamental key to garnering more sales is through lead generation activities. And lead nurturing is the driving force that will propel agents into the sales hall of fame. Leads are essentially one's prospects. Gaining the trust of your prospects is truly critical in bringing in more sales. With products of higher standards, greater diversity, and better quality, sales revenue will naturally increase. Finding new clients, getting repeat purchases, and acquiring more referrals are all important aspects of the sales process. Targeting and tracking the right audience via social media platforms, online campaigns, and data analytics are equally important as well.
Product branding and web marketing
Creating brand awareness and promoting your products is another great way to seek out prospective customers. Forming key alliances, smart partnerships, and strategic collaborations with relevant parties such as top institutions and mega corporations works wonders to one's advantage. Active catchment areas in vibrant neighborhoods with high traffic and people frequency are usually targeted. Sales staff often embark on telemarketing activities using WhatsApp and email marketing. A centralized marketing system is also employed in tracking sales. Digital marketing is without doubt the champion when it comes to driving sales. Social media applications, property portals, client referrals, repeat purchases, and roadshow events typically form the bulk of the company's overall revenue stream.
The X-Force Connect
All leads are precious no matter what their origin or source is. As such, Cornerstone has devised a mobile app called X-Force Connect to effectively acquire and track those leads, and funnel them directly to agents for their personal perusal. Despite a similar amount of leads, as a result of an efficient leads tracking and distribution system, total lead cost and expenditure can be substantially reduced. On average, a potential lead requires some seven calls for a customer to respond, and about ten calls to convert the lead. It takes approximately 26 days from lead activation to sales booking, and 45 days to convert. Even in these bear market conditions, and if you are able to track a lead well, you can still achieve potentially bullish conversion rates.
Converting the leads
Even with quality leads, it can sometimes be tough to convert. Out of 100 leads allocated, there might be only 6% of bookings registered with some 5% cases converted. This could be due to below-par or sub-standard calling protocols and procedures. Having good mastery of communication skills and presentation knowledge is widely attributed to successfully closing deals in the majority of sales cases. As such, better cold-calling tactics and techniques are implemented. Comprehensive training is also provided for newbies regularly. Negotiators are constantly upgraded by undergoing numerous courses and workshops to brush up on their professional acumen.
Relationship marketing
Buying/selling properties is truly a personal activity and require a personal touch. It involves building rapport and enhancing one's relations with one's prospects for mutual benefit. Developing loyalty and inculcating trust between agents and clients is never simple or straightforward. Always maintain a cool camaraderie and constant communication with customers by contacting them periodically and sending them tokens occasionally. Forging a prolific and productive relationship pays abundant rewards in the long haul. Most referrals are attained with years of relationship marketing. Most importantly, celebrate your clients together with their friends and families whether it is through leisure activities or social festivities. Ultimately, it is all about enriching their lives and adding value to their livelihoods. In a nutshell, each and every successful conversion depends upon quality lead generation and nurturing activities, a reliable and robust technological system to track leads and manage sales as well as a holistic plan and training regime for agents and negotiators. Finally, Cornerstone Xstate wishes to extend its utmost appreciation to Sunway Putra Hotel for providing an outstanding event venue. Also, a great shoutout to all strategic event partners for their invaluable support as well as our heartfelt congratulations and THANK YOU to the event organizer REHDA for their exclusive invitation to our managing director as a keynote speaker during this breakthrough summit.
About Wong Yau Long
Mr. Wong Yau Long is currently Managing Director of Cornerstone Xstate and a seasoned property investor. He embarked on a career in real estate since 2005 with over 17 years of expertise. His portfolio consists of a vast array of residential, commercial and industrial property transactions valued at over millions per year. Throughout his real estate career, his passion, persistence, and perseverance have garnered him a plethora of prestigious awards such as Top Real Estate Negotiator of the Year, Million Dollar Real Estate Rooftop Achiever, Outstanding Leader, and a string of subsidiary awards for multiple consecutive years. At the top of his game, Yau Long often aspires to bring about a revolutionary change as well as breathe fresh new life into the property industry by cultivating a culture of entrepreneurial mindset and sparking game-changing innovations within Cornerstone as well as the Malaysian real estate fraternity!